Poplar class
Your class teacher is Miss Wetherill, supported by Miss McDermott.
Here you will find useful information about our class, as well as photographs of what we have been doing in school.
PE Days
PE days are Tuesdays and Thursdays.
We will be aiming to run the mile on Thursdays to avoid confusion as to when the children need their PE kits.
Planners
Signed by parents over the weekend and by the class teacher on a Monday.
Please feel free to use your child's planner as a means of communication if you would like to pass on any messages.
You will also find my school email in their planner if you would prefer to use that.
Homework
Homework will continue to be given out on a Friday, to be completed by the following Wednesday. If your child is unable to complete this at home they will have the chance to do so in school on Monday, Tuesday and Wednesday lunchtimes at homework club.
Children in Year 5 are expected to spend 1 hour on their homework each week. This will consist of spelling practise and a maths homework relating to the work covered in class that week. It is expected that your child reads for at least 10 minutes each night as part of their homework from school. It would be really appreciated if you could encourage your child to do this.
Reading
Children are welcome to take books from the KS2 library as well as our class library and read them at home.
Bug Club is now up and running and login details can be found in children's planners. We will be using Bug Club in guided reading sessions, and children will occasionally be set grammar and spelling activities to complete as homework.
Spellings
Spellings will be given out on a Wednesday and tested the following Wednesday, after your child has had chance to practise over the weekend.
Predominantly, we will be practising spellings from the year 5/6 N.C spelling list. The full list of year 3/4 and 5/6 words can be found on the spelling platform of the school website. All children should have access to this, login details can be found in their school planners.

For the past two years, as part of a whole school effort, each class has taken part in a weekly 1 mile run.
The benefits resulting from this have been fantastic! Not only has it been evident that children have been getting fitter, and therefore healthier, but it is also clear that they are becoming more confident, with children applying their new found determination to their work ethic in the classroom. We are keen to continue running at least once a week and ask you to please ensure that your child has appropriate footwear in school so that they are able to take part.
Our current record for all Year 5 pupils is...
Today (23.05.18) every child in school will be running a mile around the field, to raise money for the Forget Me Not Children's Hospice in Leeds. Year 5 ran together as a year group. We ran with flags from around the world, as this is the theme of the run.
Wednesday 21st March was World Down Syndrome Day. We celebrated this by wearing odd socks and by learning to introduce ourselves using the sign language Makaton.
Finally, we got to wear our costumes! We had a fantastic morning in Year 5 for our honorary World Book Day. We learned how to draw Greg from Diary of a Wimpy Kid, and even got the chance to 'wimpify' ourselves when creating our very own personal bookmarks. We explored the magical world of Harry Potter, taking a trip down Diagon Alley and getting creative whilst thinking up our very own magical spells.
We were visited by our buddy class the Red Butterflies, who came all the way over to the KS2 building to show off their costumes and share their favourite books.
Wednesday morning was a little different from normal. Instead of starting the day with our weekly spelling test, we had a drama workshop instead! Jeff visits schools up and down the country and is passionate about using drama and role play to help children understand, question and enjoy reading and writing. We looked at the storybook 'The Composition' and learned about inequality and dictatorship. This was a great link to the work we have been doing around apartheid in South Africa.
This half term (Spring 1), Year 5 are looking at stories from other cultures. We are reading Journey to Jo'burg which is set in South Africa, and have been focusing on Africa as a whole. We were lucky enough to have an African Voices Workshop in week 3, where Angelo and Jeff visited us in class. They were impressed with our geographical knowledge, and our specific knowledge of village life around the city of Johannesburg. They helped us to understand more about traditions, native animals and general life in different parts of Africa, they educated us about a lot of misconceptions surrounding Africa which we found very interesting. We even finished the day learning some traditional dance moves that Angelo had learned back in his village in Uganda.
I am proud to announce that we have achieved our Investors in Pupils class target. Which means that we can claim our well-earned reward of watching a film in comfy slippers :)
Investors in Pupils is a framework that we have introduced at Asquith. Our class target is just one of many ways that we are working together to enhance pupil voice and participation in school. Providing opportunities for children to take responsibility for their own education and behaviour. In Poplar class, we think this is a great idea, and were all involved in choosing our target and reward for this half term.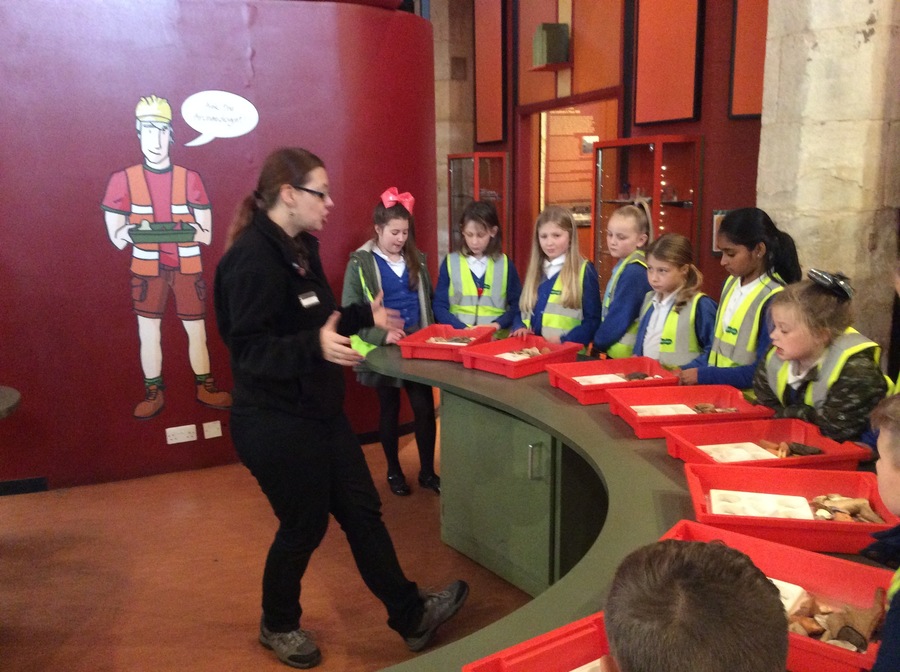 Year 5 are learning all about the Viking Age in Britain. We were lucky enough to visit the Jorvik Viking Centre in York. Here is a photo of us learning all about the archaeology behind the dig site of Jorvik.
As part of our space topic in Autumn 1, Year 5 pupils worked in groups to investigate the movements of the Earth, Sun and Moon. We made mini models using paper plates and split pins that helped us to learn about the difference between rotating and orbiting.
As a school, we are working with Premier League Primary Stars. In Year 5, myself and Mr Jones will be working closely with coaches to plan and deliver fun and engaging PE activities to help pupils develop their skills in everything from balance and coordination to athletics and throwing skills. In addition to this, challenging topics such as resilience, diversity and self-esteem, will be brought to life by personal insights from children and top figures of the sporting world.
Today (21.09.17) we were lucky enough to be visited by Leeds United goalkeeper Bailey Peacock, who kindly answered all of our questions about his inspirations, work ethic and hobbies outside of football.
Poplar Class
Chloe WETHERILL (wetherillc) on: Poplar Class
Wow, this year is flying by! Here are a few dates for Summer 2 to put in your diaries.
Monday 18th June - KS2 Sports Day in the morning 9:00 - 11:00
Tuesday 19th June - Y5/6 SRE parents meeting 3:30 - 4:00
Wednesday 20th June - KS2 Morley Sports Day at Bruntcliffe academy 1:00 - 3:00
Friday 29th June - Summer Fair 3:15 - 5:00
Wednesday 4th July - Treasure Island Pantomime
Wednesday 4th and Thursday 5th July - Transition days
Friday 6th July - Y5 Ancient Greek dress-up day
Wednesday 11th July - Homework exhibition in the main hall
Monday 16th July - Summer Concert
Tuesday 17th and Wednesday 18th - Y5/6 Robin Hood play
Friday 20th July - Asquith's Got Talent
---